Tag-based Properties
Tag-based Properties
If you have a lot of listings for sale, it can be frustrating for website visitors to page through them all while looking for homes of interest.
Consider grouping like properties together (examples: pool, luxury, vacation, condos), and then creating a specific sub-menu entry that brings up only that group of properties.
Instead of one "Featured Properties" page and menu, you could have a button "Featured Properties" and then dropdowns that appear and describe groups of properties; rentals, vacation homes, luxury homes, condos, and the like. Each of those dropdowns (sub-menus) can then point to a page or list of just those properties.
Here's how to tag a property and create a tag-based listing page:
Tagging Properties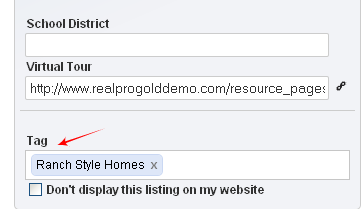 1) Click Listings

2) Select Listings from the dropdown

3) Click the edit icon next to the property you would like to tag.
4) In the lower left corner you will see the Tag section. Add one or two words to help identify the property such as 'pool', 'luxury', etc. You will need to use this exact word or set of words for each property that you would like to include on the page with the one you're currently tagging.

5) Save
Creating a Tagged Listings Page
1) Click on Website
2) Click on Pages
3) Click on the tab that says Tagged Listing Pages
4) In the upper right corner, click on + New Page

5) Add a name for your page.
6) Choose the word or set of words you used in the listing Tag field from the dropdown menu.
7) Click Next.

8) Add a description of the page here. The description will appear at the top of the listing page.